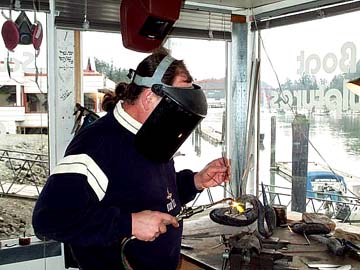 A professional artist since 1973.
I specialize in scenes influenced by the beauty of the great northwest and San Juan Islands, which I call home.

When you are lucky enough to live in this area, it is impossible not to be influenced by the beauty of the Bald Eagle, the grace of the Great Blue Heron, and the abundance of water fowl and shore birds which we encounter on a daily basis.
I use these sightings to give me direction and inspiration for my one of a kind pieces of art. Most of my sculptures are still found inside the home. But many of my newer works are going in the direction of bronze sculptures for the yard, garden, deck or spa.
Many of my works are fabricated on a commission basis.
For information on having a commission piece designed:
E~Mail me at matheson@cio.net or call at 1-(360)-466-3341.